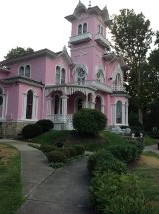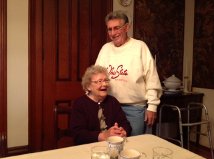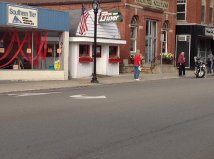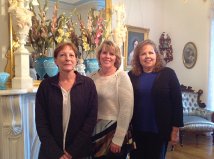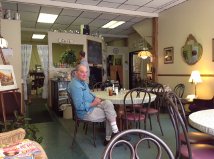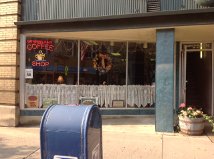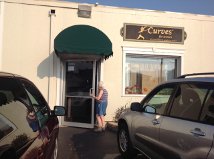 Serendipity Cupcakes took a little time off to recharge the batteries. Mr Cupcake and I headed off to Wellsville, New York and stayed at the family home The Pink House. We always love visiting The Pink House! This visit was extra special as my parents drove over, which was a short 3 hour drive and my 2 girlfriends who were also were my bridesmaids for our wedding Joan and Shari drove 6 hours. Shari was my water aerobics instructor in Ohio and Joan stood in the shallow end of the pool with me since we are both short. We started our day together at the Modern Diner. We had never eaten there and was quite surprised at what a good breakfast we had. We had a great time antique shopping and eating for the couple of days they visited. The photos attached are Joan Wells, myself and Shari Wheeler. In the other photo is my parents, the ones laughing!
Each day during the week, I start my day off by going to Curves with my mother in law Marcile. Its really fun going as everyone is SO nice and even though I only visit once or twice a year, the ladies still remember me as if I go everyday. The owner Carol is so very nice and seems to enjoy helping everyone with their workout issues. After the workout is out of the way, we head over to The Gathering Place. Yes, we work out and then get a coffee and cookie! Usually, there is a table full of regulars "chewing the fat", but on this day there was one older gentleman and Jean, the owner. This older gentleman was telling us how he has lived in a small town all his life, he was very nice. On the other side of The Gathering Place is an antique shop, so I always go there next and "just look", but I always find something. This time I found a wooden shelf that I am going to display cupcakes on. This coffee shop was really an inspiration to me as I would love to have a place that people can come and "chew the fat".
Today I created some Lego Cupcakes for a 4 year old's birthday party, photos to follow next week. I have many upcoming events for the end of next week, including a TV Lauch Party and Williams-Sonoma Artisan's Market, so stay tuned for next week for more Wellsville stories and upcoming event news… Off to cupcakeland, actually to bake some sugar cookies for a going away present!