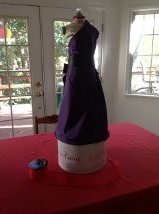 I am very excited as the 14th Annual Renal Teen prom is almost here. I attached a photo of the prom dress that I made that will be the focal point for the cupcake display. I was out and about walking through a department store and found a hat box that reminded me of Paris, so I bought it for the mannequin to stand on. I have various white plates of different heights that the cupcakes will sit on. After getting this all together, I realized I did not have anything to wear, so today I shopped for my dress. I think my mannequin's dress is prettier then mine, ha! If anyone would like to rent my mannequin for a party, let me know and I will dress appropriately and set up the display.
This week has been very exciting for Serendipity Cupcakes. I met with Mr Pasadena, who told me about a bake sale that is going to help someone raise money for an AIDS Bike ride throughout California, so more to come on that. I also found out that Williams & Sonoma on Lake in Pasadena is going to be holding their first Farmers Market on Saturday, February 2nd and Serendipity will be there selling some yummy cupcakes. Also, as a thank-you to Mike Gatto for getting the Cottage Food Bill passed in California, I will be taking his staff and him some delicious cupcakes at the end of the month. This week was a very positive week.
Stay tuned for next week when I will post some pictures of the prom kids decorating cupcakes and then photos from the prom, have I said I am excited! Have a great weekend!